I recently ran my first Love What You Create Workshop
It was the most beautiful afternoon, so I thought I'd share some of the insights and lessons I learnt from planning and running it.
1 // Organise the main details (theme, venue, date, time) and announce it quickly
My entire workshop was planned and held within a 3-week period of the idea coming to me. I didn't rush any part of it, but I also wanted to announce it before I could talk myself out of it! Of course, you don't have to actually hold your event two weeks after announcing it, but once you've decided you want to run an event or workshop, plan it and release it into the world so the right people can hear about it, and book in.
2 // You might be nervous, but do it anyway
I've spoken at many events and workshops over the years, but this was the first time I'd planned and run my own workshop. And yes, I was nervous! As soon as I announced the tickets, I thought 'Oh that's it, no one's going to come.' But I'd committed to running it no matter what, and by the time the workshop rolled around, all 15 tickets had been sold. Most of the tickets were sold towards the end, in the days leading up to the event. I initially opened 30 tickets, but after a few days I closed it to 15 and I'm so glad I did because it felt like the perfect number.
For me, I knew it was time to run an in-person event and I'm so happy I did it anyway, even with the fears of no one coming! Yes I knew I was well-prepared, but that didn't stop the pre-workshop nerves. I think it's natural and normal to feel that though, and I think we can use it and benefit from the nervous energy too.
And, as I knew would happen, as soon as I started speaking the nerves dropped away and I could fully focus on the beautiful women in front of me.
3 // Don't complicate things
I kept things really simple; a beautiful workbook I made in Word, with a front and back cover made on Canva using my own images from a photoshoot, plus a few extra worksheets (journaling prompts, feedback form etc.) which I printed at Officeworks. I mapped out how the day would flow and practised what I'd speak about, in a loose way (I didn't use notes, I just spoke from my heart).
I created the workbook going by the themes I'd mentioned when selling tickets: trusting yourself, your creativity and your voice, releasing stress around your creativity, clearing creative comparison and overwhelm, working with the natural rhythms and cycles of your body, and more.
4 // Run an event you'd love to go to
This is important on a few different levels. Firstly, if you love what you're creating (get it?) you'll be excited to promote it and you'll attract the right people to your event. Plus on the day, you'll feel more confident talking about it and teaching it.
5 // Be overly prepared
As this was the first time I'd run this workshop, I wasn't exactly sure how the timing would go so I made sure I had lots of content to go through, just in case. There was also time for group discussions throughout, and towards the end I gave the girls time to just create whatever they wanted. As it turned out, the timing was perfect.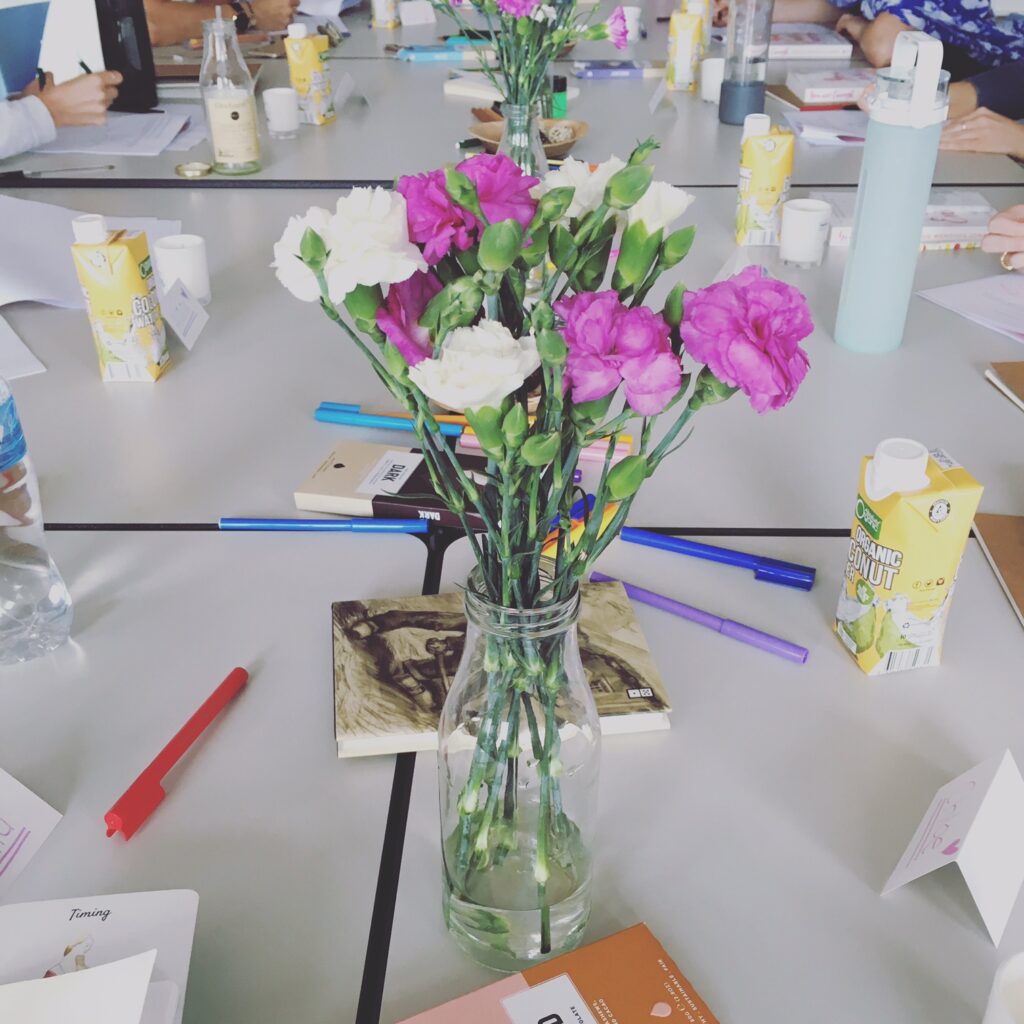 6 // Surprise and delight
I wanted the workshop to feel as if the attendees were in my home; warm, comforting and inviting. I went to Bondi Markets the day before and bought beautiful flowers for the tables, plus I stocked up on coconut water and raw chocolate. We were all gifted divine candles from Maison Blanche, and my friend Jordanna from The Inspired Table made delicious bliss balls for the girls.
I also included a signed copy of my book in the ticket price, plus a beautiful craft notebook, and I supplied pens, coloured pencils and texta pens (colouring-in markers) for creative mandala colouring in.
7 // Make sure you're organised
I started working on the workshop content before I'd announced it, to ensure the theme and ideas felt easy to teach. They did! So I immediately announced the date and time, organised ticket sales through Eventbrite, and then got started on my workshop content. I took myself through my content and workbook several times before the big day, tweaking and refining it as I went.
8 // Don't leave anything to the last minute
I went to check out the workshop room before I announced ticket sales were open, to check that I really liked the vibe of it. I got everything printed, and bought all the notebooks, pens, raw chocolate etc. several days before the workshop so if something went wrong with the printing or purchasing of workshop supplies, I'd have time for Plan B.
9 // Celebrate!
Once your event is over, make sure you celebrate! I went out with my family for amazing grass-fed burgers, sweet potato chips and a glass of Malbec to celebrate, and I planned a very slow Monday, with little commitments, so I could rest, re-charge and reflect.
10 // Ask for feedback, read it, review it… and plan for updates or changes for the next event
Reading feedback about your event is so important, and will help you create an event better event next time. I included feedback forms with the worksheets, and collected them at the end of the workshop.
I asked questions such as:
Why were you inspired to book in to this workshop?
What was the best part about today?
Leaving the workshop, how do you feel?
With love, what do you think could be improved?
If someone were deciding whether to come to this workshop, what would you say to them?
I also asked them to rate the venue, workshop content and materials, and the vibe of the day, and asked if they'd be happy for me to use their feedback as a testimonial. You can read some of their feedback just below.
Here's what some of my wonderful workshop women said about the day:
"I booked into this workshop because I needed help unblocking negative thoughts about my creativity, and wanted to meet like-minded people. I thoroughly enjoyed the whole workshop, and I left feeling inspired, positive and happy. The content was amazing, useful and really practical. My advice? Hurry up and book in!" – Janelle Lorenzini
"I loved the workshop! I left feeling so inspired, grounded and calm. The content was so good, helpful and really practical. The vibe of the day was really beautiful, feminine and inspiring. It was a beautiful way to spend a Sunday." – Alana
"The best part about the workshop was hearing Cassie's personal experience and wisdom about how to overcome perfectionism and overwhelm, and the workbooks and exercises. I feel very clear on what I need to do, and very inspired and empowered. The workshop had a beautiful and safe uplifting vibe. It's the gentle nudge you need to trust your creativity." – Elyse Santilli
"This workshop is an investment into every part of you and you can take absolutely whatever you want from it. It's worth every cent and more. Creativity is such a beautiful thing that needs nurturing from time to time. The best part about the workshop was connecting with beautiful people, learning some really useful tips and releasing some blocked energy. I left feeling enlightened, inspired, and more capable and confident." – Ally McManus
Want to start loving what you create?
Since running this first workshop, I went on to run an Australia-wide workshop Love What You Create Workshop tour, and then created an online version of the workshop.
You can learn more and join us here.
Love,