Before I did what I do now, I was a hair and makeup artist in the fashion and beauty industry
Here's some makeup I did back in 2008/2009: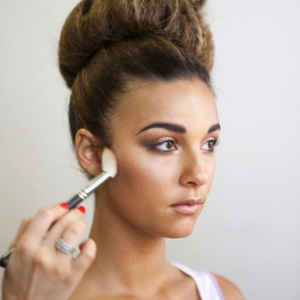 Since 2005, I've pretty much worked for myself, and I've never worked in an office
That's 12 years of entrepreneurship.
12 years of showing up, setting goals, deciding how to move forward, taking action, course-correcting, putting myself out there, doing my best (and giving my all), picking myself back up again when things didn't go to (my) plan, wiping the tears off my face, moving onwards (always), and trusting my intuition to help me build my business.
I've been through so much; sky-high ups and pure joy, deep lows and crushing blows.
But I'm still here ??
I'm still showing up.
I'm still setting goals.
I'm still course-correcting.
I'm still using my intuition to build my business.
And so when I got the idea to create a monthly business alignment mastermind, I ran with it.
When I got the idea that the first month would be about getting off the entrepreneurial rollercoaster, I ran with it.
The first mastermind is happening tomorrow, and I'd love to welcome you in.
You can reserve your place here.
In this mastermind, I'll take you through the most important steps you can take—and the mindset you can embody—to help you step off the entrepreneurial rollercoaster and find more ease and flow with your work, money and business.
The entrepreneurial rollercoaster can be exhausting. You wonder if things will ever even out for you; you put so much work in, and yet you still feel like you're always chasing your tail, or trying to keep up (with what?).
If you ever find your mood fluctuates based on your bank account, if you've had moments of wondering if you should quit your biz, if you know something's gotta give, if you know you're creating something incredible (and want to stick it out!), this month's mastermind is for you.
By joining this month's mastermind, you'll feel more confident in yourself, your business and your actions; you'll begin trusting yourself and your decisions even more; you'll stop feeling so up-and-down with your work (and path in business); and you'll feel more grounded and solid in what you're working on, and what you're allowing yourself to receive.
I can't wait to mastermind with you,
Love,